Description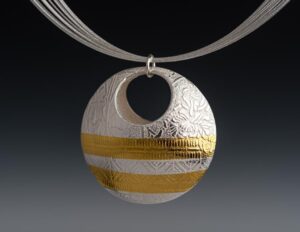 This beauty is a hollow formed pendant domed on both sides,  a sophisticated whimsical galaxy texture on one side and the other adorned with 24K gold which has been fused to the silver. Depending on the outfit this piece is dressing it up or keeping it simply elegant. It is set off by hanging on multiple sterling silver cables.
Measures ~approx. 1.5″ round.
Each piece is made individually in my studio. There will be some slight differences on the placement of the texture on the piece.
Will ship within 7-10 days.