Star, my Bernese Mountain Dog is my companion, by my side in my studio in West Concord, Massachusetts. Merlin, my golden was the namesake of the business, seen below many, many years ago. It is here that I guide a piece of silver through the many stages of development to become a finished piece. I find the final polishing and finishing techniques are the most rewarding part of the process, because it is here that I see my work come to life as a sparkling piece of jewelry, a holiday ornament, or a specialty gift.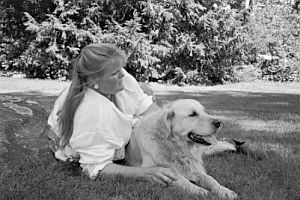 Many of my design inspirations come from my love of celestial images and the natural world around us. It was this love that initiated my first star and sunburst pendants 35 years ago; other designs soon followed and are always being created. Customers suggested ideas such as combining the star and moon dangle earrings, and the wide variety of dog breed pins, pendants and earrings. I greatly appreciate customers' feedback for new images and ways to expand on my ideas and designs.
Over the years I have received my silversmithing education from DeCordova Museum and School in Lincoln, Massachusetts.  There I had learned not only from my two instructors, Florence Hollingsworth and Cindy Eid, but also my skilled peers, who have influenced me in both technique and critical thought as I approach my work.  I was surrounded by great talent that continues to inspire me.
In 1998 I discovered Metal Clay and have taken that early experience into new techniques. Working with an array of texture plates and found objects. I create my piece in a clay, an organic binder, that has been embedded with microns of fine silver. Once dry I refine it using sanding and filing techniques to get a smooth surface where needed. It is then that I fire the piece in a small kiln at 1650 degrees for two hours. During the firing process the clay burns off and I am left with my piece in silver. It comes out of the kiln in a beautiful frosted white. Unfortunately, with wear that will not look like this. I burnish the metal with an agate or steel tool or tumble with steel to bring up the shine.
On some of my pieces I use an ancient Korean technique Keum boo to apply 24K gold to the silver. The gold is a very thin foil, thinner than tin foil. I heat the silver to a high temperature and lay the gold down on it. With an agate burnisher I burnish the gold to the silver where they fuse together. It is always rewarding to see the shallow texture come through the gold. The combined metals is very popular with customer.
If there is a special request that you may have, I will be happy to discuss that with you.  The Sterling ornaments can be done in any dog breed or image you would like to see. wonderful to see them dazzle the tree. Please feel free to call me.